Ham Nevadensis Gran Reserva 15 Months
"Gran Reserva" Ham from the Alpujarra cured for at least 15 months.
Cured 100% natural in the Sierra Nevada park
No artificial additives
Low in salt
Meat from a female pig
With as only ingredients seesalt and pork
Parental breed Duroc
Approximate Weight: 7,7kg
€ 8,31 per kg
€ 64,00 Including VAT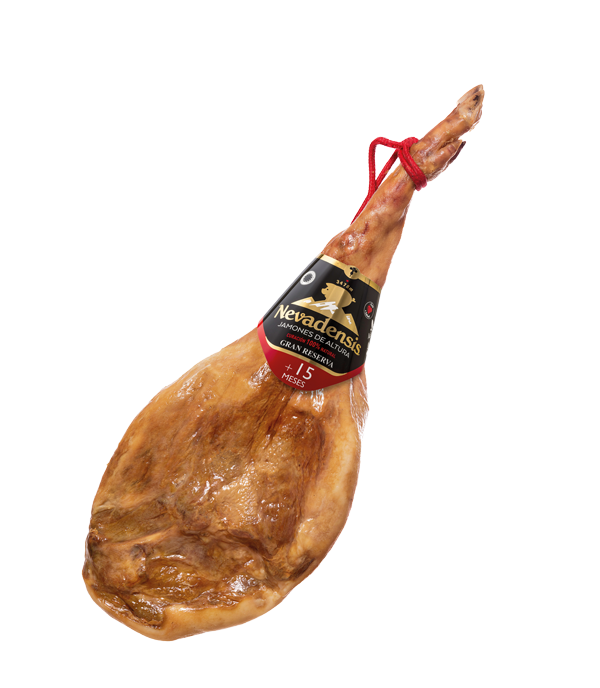 "Gran Reserva" Ham from the Alpujarra with a minimum of 15 months of natural curing in the cold mountains of Trevélez in the Alpujarra. Without any artificial additives, using seasalt at just the right quantity as the only ingredient.
The perfect ham for everyday use, or in larger quantities.
Origen
Pork from animals bred under controlled circumstances, including breed and feed. Female pigs from the paternal breed Duroc.
Production
A slow and careful, traditional curing process in our natural ham drying-houses in one of the highest villages of Spain, in the Sierra Nevada, Granada province.
Detailed information about the product.
Minimal Curing Time
15 Months
Aproximate Weight
7,7kg
Denomination
Serrano Ham

Breed
Ham of female pigs from paternal Duroc
Flavour
Soft and delicate, low in salt
Colour
Pale red, fading towards the inside
Ingredients
Pork, Seasalt
Breed
Ham of female pigs from paternal Duroc
Sodium Content
Regulatory: < 4.5%
Nevadensis: < 3.5%
Artifical Additives
None
Consumption temperature
Ideally between 18°-24°C
Best Before
Consume within 6-7 months of purchase
Storage
In a dry place, at room temperature and covered with some rind and a cloth.
Nutritional Information, averages based on 100g natural samples.
| | |
| --- | --- |
| Alergens | None |
| Energy | 275 Kcal |
| Fat, of which: | 16.6 g |
| - Saturated | 7.5 g |
| Carbohydrates | 0 g |
| Proteins | 31.5 g |
| Salt | 2.5 g |
Buy Now