Sliced Ham from Trevélez (21 Packets)
Sliced ham from PGI Denomination of Origen Trevélez ham. Box with 21 x 100g vacuum-packed packets.More...
Cured 100% natural in the Sierra Nevada park
No artificial additives
Low in salt
Meat from a female pig
With as only ingredients seesalt and pork
Parental breed Duroc
Approximate Weight: 2,1kg
€ 21,67 per kg
€ 45,50 Including VAT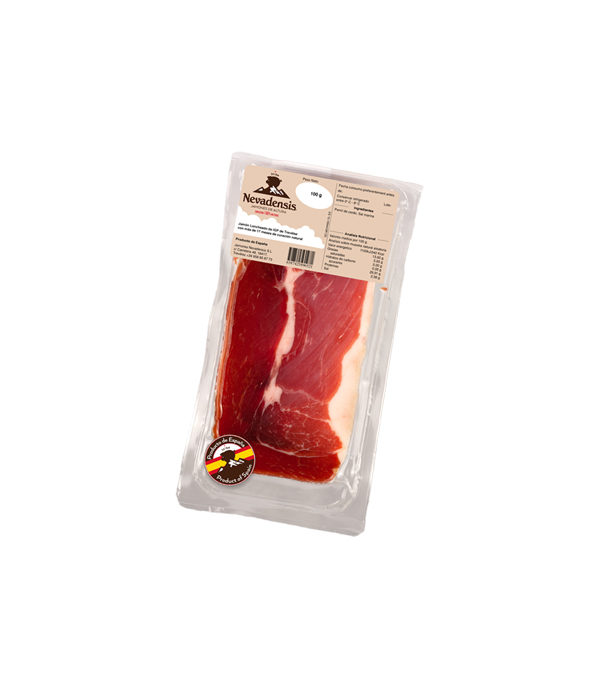 The image is not an exact representation of the product.
Our small contribution against the spread of the virus
We will ship your order in a vacuum-sealed bag to guarantee the safety of your products during transport.
Sliced ham from ham with denomination "Protected Geographical Indication" of Trevélez. Box with 21 x 100g vacuum-packed packets. Please contact us for more information about the options we offer. Any ham from our online shop has the option of purchasing it deboned or sliced.
Origen
Pork from animals bred under controlled circumstances, including breed and feed. Female pigs from the paternal breed Duroc.
Production
A slow and careful, traditional curing process in our natural ham drying-houses in one of the highest villages of Spain, in the Sierra Nevada, Granada province.
Detailed information about the product.
Minimal Curing Time
17 Months
Aproximate Weight
2,1kg

Breed
Ham of female pigs from paternal Duroc
Flavour
Soft and delicate, low in salt
Colour
Pale red, fading towards the inside
Ingredients
Pork, Seasalt
Breed
Ham of female pigs from paternal Duroc
Sodium Content
Regulatory: < 4.5%
Nevadensis: < 3.5%
Artifical Additives
None
Consumption temperature
Ideally between 18°-24°C
Best Before
Consume within 9 months of purchase
Storage
Refrigerated between 0° and 8° Celcius
Nutritional information of the ham, averages based on 100g natural samples.
| | |
| --- | --- |
| Alergens | None |
| Energy | 275 Kcal |
| Fat, of which: | 16.6 g |
| - Saturated | 7.5 g |
| Carbohydrates | 0 g |
| Proteins | 31.5 g |
| Salt | 2.5 g |
Buy Now